Café Mama de Luna: The Story of Us
Owner/Barista Rodrigo Medel
I grew up in Mexico city. I'm the youngest of three brothers and have a large extended family. As anyone from Mexico will tell you, food – and preparing it and serving it up for your family and friends – is a huge part of our culture. Everyone is a really good cook. Big family events like Christmas were always massive occasions where everyone headed to the one house days before to prepare all the food from scratch. There'd be people pulling bones from dried fish, and others making olive oil. There were almost always fights between all the aunties about 'my recipe is better than yours'. There'd be so much food that someone would have to bring a second fridge to store it all in.
That is exactly what Arum and I have tried to recreate at Café Mama de Luna – amazing traditional Mexican food but also that welcoming atmosphere. We want our customers to walk in and instantly feel like they are with family.
We only opened the cafe a couple of years ago but we've built up a loyal group of customers including a lot of people from the Mexican community in Brisbane.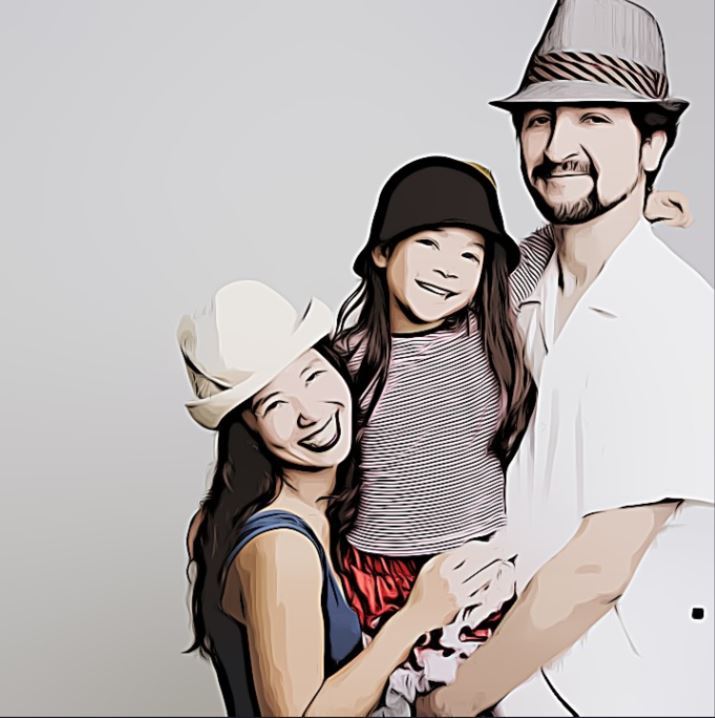 A lot of that has to do with Arum's skills as a chef. She has mastered all the traditional dishes. One day we had a group of Mexicans here and they were eating a famous Mexican dish and raving about how good it was. One of them said to me 'This is so good! It makes me feel like I'm in Mexico! Who is your chef?'. Arum walked out and their jaw dropped when they realised she wasn't Mexican, but Korean. She gets that all the time. It's the best compliment you can get for Mexicans to say that your cooking reminds them of home.
Arum and I met at language school in Brisbane ten years ago. We'd been together eight months when I took her back to Mexico to meet my parents and family. We think it was on that trip that our daughter Luna, who is now 8, came along. Mum would cook for us and Arum, who was fascinated by the culture, would be studying what Mum was doing and would be asking her questions and taking photos. 
Arum and I had been working hard in our jobs in Brisbane – I was managing a café and she was working as a chef in kitchens – when we decided to start our own café. It's been the hardest thing we've done but also the best. 
Owner/Chef Arum Kang
I was born in South Korea and went to university in Seoul. I studied fashion and worked as a visual merchandiser in fashion and retail companies. In Korea life is all about working; most people work 10-12 hour days. I had enough after seven years working in fashion, so got a working holiday visa and went travelling. I went to Europe and America and then Australia. It was just meant to be a long holiday, but as soon as I arrived in the airport in Brisbane I knew this was where I was going to live. I started working as a kitchen hand at the Regatta Hotel at Toowong, then decided to study business and then hospitality. I eventually became a chef. 
I've always been interested in Mexican culture and food – it's actually not that different from Korean food in that it's full of flavour and spice and heat. Rodrigo and I had mutual friends at language school and one of them said to me 'oh there's a Mexican guy here' and so we started chatting and went out for coffee and then one date led to the next.
Luna came along very soon into our relationship. I loved our trips back to Mexico where I could learn from Rodrigo's family about all the dishes. Even a weekday dinner in Mexico is a big deal. The Mexican culture of family and the way they work to live, rather than working all the time, was so different to what I knew from South Korea.
It's always been my dream to have my own restaurant and I'm really proud of the community we have created with Café Mama de Luna. We also love showing our customers what real Mexican food tastes like. Anyone can go to a Mexican chain restaurant, but real Mexican food is a completely different experience. I love being able to provide that for people.
When Luna came along, Rodrigo would call me Mama de Luna, so it was the obvious name for the café. It's just the three of us – me, Arum and Luna. All of our customers love seeing Luna when they come to the restaurant.